MEETING OF INDUSTRIALISTS, ACADEMICS, BUREAUCRANTS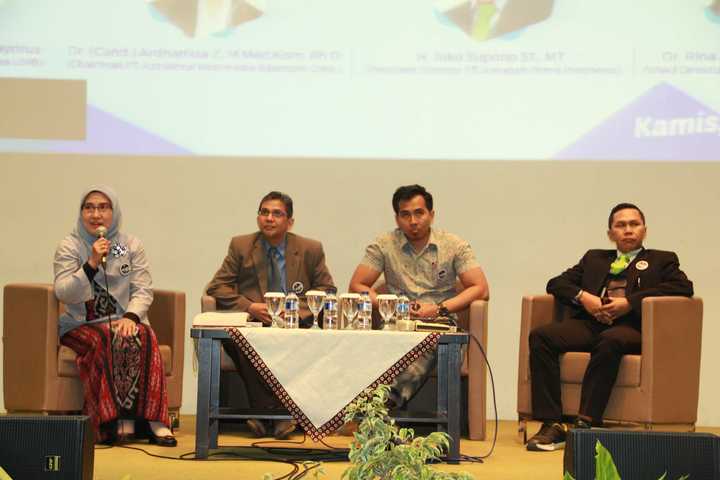 The era of industry 4.0 is a challenge for all parties. There is no exception for higher education institutions that must be better able to adapt to the needs of industry 4.0. In order to be able to produce educated personnel who are able to answer challenges.
"Through this seminar industry, academics and bureaucrats met to see challenges and find answers," said the Vice Chancellor of UMB, Dr. Hadri Mulya in a seminar themed Challenges and Opportunities of Industry 4.0 at UMB campus, Jakarta, Thursday (March 14, 2019).
According to him, the synergy of industrialists, academics and bureaucrats will find effective solutions for the future. As well as being able to become meaningful information and input for universities in formulating curricula that can answer the needs of the industry.
Marketing Director of UMB, Dr. Irmulansati added that this activity was initiated by the Marketing Directorate as an effort to approach industrialists, bureaucrats and the community with universities. While also presenting solutions and opportunities for industrialists to be actively involved in the world of education.
"Through industrialists, academics and bureaucrats as industrialists, they can be actively involved in higher education, both as postgraduate students and as practitioners and educators," he added.
In a seminar guided by FEB UMB Lecturers, Dr.Rina Astini revealed various views. Industry 4.0 requires not only adequate knowledge and skills, but also personal abilities to build social networks. (author: sri dewi nur pasha / editor: Riko Noviantoro / University Secretariat and Public Relations Bureau/ www.mercubuana.ac.id / humas@mercubuana.ac.id)